The KDrama fever is taking all over the world, I mean literally. Aside from the handsome and amazing oppas, it is true enough that South Korea's drama industry deserves all the praises and attention it is getting for it never failed to give us, viewers, story lines that are so worthy of spending 16 to 20 hours of our time. Sometimes even more.
            But with the hundreds of Korean Dramas out there, you're probably having a hard time deciding what to watch next. So, here's a personal recommendation for you. Try Moon Lovers: Scarlet Heart Ryeo. Here are the 7 Reasons Why.
Amazing Plot and Twists
        As mentioned, KDramas are known for their incredible, unpredictable plots. So, what is Scarlet Heart Ryeo all about? The drama is a historical spin-off of South Korea's Goryeo era founded by the King Taejo. It follows the story of a 21st century girl named Go Ha Jin who time travelled her way thousands of centuries back after she saved a little boy from drowning during a lunar eclipse. Go Ha Jin wakes up in Goryeo and inside the body of a 16-year old Hae Soo who turned out to be also her minus the modern clothing.
Hae Soo who was a distant cousin of the 8th prince of Goryeo's wife, then meets the rest of the royal princes, captivating them with her colorful personality that is the complete opposite of the women during that time.
Characters
You are definitely going to love and hate (but mostly love) the drama's characters. Each of them is going to make an impact on you. Also, if you wish to watch a drama that's so into character development, then you're surely on the right track with Scarlet Heart. Their actors IRL have portrayed each of their roles absolutely well. The drama is led by the actress and singer IU, and the actor Lee Joong-gi along with other talented cast members.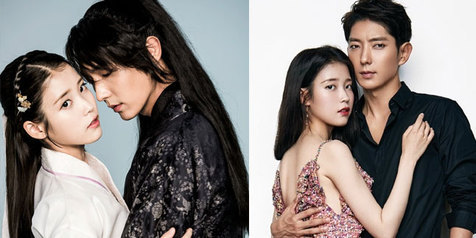 Love Triangle
Because what is KDrama without any love triangle, right? The love triangle revolves around Hae Soo, Wang So (4th Prince), and Wang Wook (8th Prince). Hae Soo is trapped between the two *dazzling* brothers who fell in love with her humor, courage, and kindness.
Really, it is a love triangle unlike any other.
Antagonists
They say that stories are only as good as their antagonists. That is so true. And Scarlet Heart never went short of its antagonists to make the main characters' lives miserable, and yet exciting.
(I'm giving you a hint!)
One value that the series emphasized is the importance of trust, and how it should not be given immediately to anyone –even to the one you love most. The drama's antagonists are different from the others you often see in other stories. And I guess the only way to find out why is for you to watch it.
Side Love Stories
Aside from its main leads, Scarlet Heart also features other kilig couples that are going to take you to Cloud 9. Lol. The side characters' love stories are just as good as the main characters, and they're going to cause you a hundred butterflies in your stomach.
      6. OST
Also, the drama's OSTs are not one to miss. If you are no fan of Kpop then it's probably time to listen to some Scarlet Heart Ryeo songs and have a change of heart. I personally find their songs as the best KDrama OSTs that I've ever listened to so far.
Oppas
            Lastly, Scarlet Heart Ryeo is casts with so many oppas. Isn't that enough reason to convince you? Lol. The drama features:
            These hotties play as the sons of Wang Taejo and the princes of the Royal Household of the Goryeo dynasty. And also, Hae Soo's knight in shining, shimmering armour. Awww.
                With its 20 episodes, this historical drama is going to make you fall in love whilst taking you a thousand years back in time. So, what are you waiting for? Binge-watch Scarlet Heart Ryeo now.